SIMPLY PHOTOGRAPHY 11 A juried photography show. Photographers get an opportunity to show their signature photographs in this juried show. Call for entries is January 17th and 18th, 2014 at Art Works. There are cash prizes. The juror will be Charles Palermo. Jane Sandelin Gallery.


Click here to download / print a PDF catalog

RECENT WORK BY RICK BLANTON Photography. "Rick Blanton has been photographing for over 35 years and he still feels energized every time he picks up a camera...He has worked in Advertising Photography, his work has been published in magazines, and news print. He was also a photographer for Reynolds Metals in their R&D department. Rick has photographed sports, including Baseball, Stockcar, Indycar Racing, Professional Bike Racing, as well as other sports. He has also photographed Business Events, Celebrities, Children's Portraits, Gevernors, and Presidential Candidates. " Centre Gallery, East.

MOUNTAINS AND MOLEHILLS By Dana Frostick. "This mixed media work is a combination of drawing and painting. My goal is to allow the artwork to control its eventual outcome. To achieve this, I take steps to prevent my influence from overcoming the piece and never begin with a preconceived idea of what I want to create. The drawing is done in sharpie alone to allow for accidents and to prevent reworking a line or pattern. The first marks are applied in a gestural method without me looking at the piece, then patterns are revealed in the spaces created by these first lines. The paint is applied in layers between the sharpie after letting the image seep into my brain so that colors present themselves to me. The artwork is turned periodically to open new areas of perception into the piece. Each layer is influenced by the previous layer as the piece is built up to its conclusion. When no more areas appear to need work, I begin to see ideas and stories in the patterns created, allowing me to extract the titles from each finished piece."
"Born and raised in Richmond, VA, Dana Frostick studied at Virginia Commonwealth University in the 1980s, majoring in sculpture. Painting and drawing have always been her primary forms of expression. She has combined these two media in her "Elaborate Doodles" which she has been producing exclusively since 2007. Her work has been accepted into and won awards in juried shows on the local, regional and national levels. Since 2000, Frostick has exhibited her work in over a dozen solo shows and dozens of group shows at venues in Richmond and Petersburg, VA, DC, Omaha, NE, and New York, NY. She has 2 solo shows scheduled for the beginning of 2014 in Richmond including one in Art Work's Centre Gallery during Jan/Feb. During 2012/2013, she worked as a Teaching Artist with 5th graders at Mary Munford Elementary School in Richmond as part of a grant funded by Partners in the Arts. She is a member of artspace, a non-profit gallery for contemporary arts in Richmond, VA, since June, 2000; past-president of the gallery from 2004-2005; webmaster for artspacegallery.org since 2000. Frostick is an avid bicyclist, commuting to her studio in Scotts Addition and taking local trips around the Richmond. She spends most of her free time doting on her cats."

CHESTER ARTIST ASSOCIATION group show including artists: Audrey Skeen, Marti Fann, and Gail Butler. The Association was founded in 2009 to provide programs, trips, enhance artistic learning, and provide social time for artists in the Chester, Virginia area. Skylight Gallery.

JANUARY ALL-MEDIA SHOW Each month Art Works offers artists from all over to participate in a juried art show. Sally Bowring will jury the show. Submissions are accepted from any artist and any medium. Call for Entries is on January 17th and 18th. See our Call For Entries page to learn more.
About the Juror, SALLY BOWRING:

"Sally Bowring: A native New Yorker currently lives in Richmond, VA. Ms. Bowring teaches painting at Virginia Commonwealth University. Her awards include the Virginia Museum of Fine Art Professional Fellowship and the Theresa Pollak Visual Arts Awards 2003-2004. Sally Bowring is represented by Reynolds Gallery in Richmond, VA. Her artwork has been exhibited extensively nationally and internationally".
Click here to download / print a PDF catalog

All images are the property of the artists and may not be duplicated without permission. Contact Art Works, Inc. 804 291.1400 in Richmond, Virginia U.S.A. for more information or if you wish to seek permission for use of images.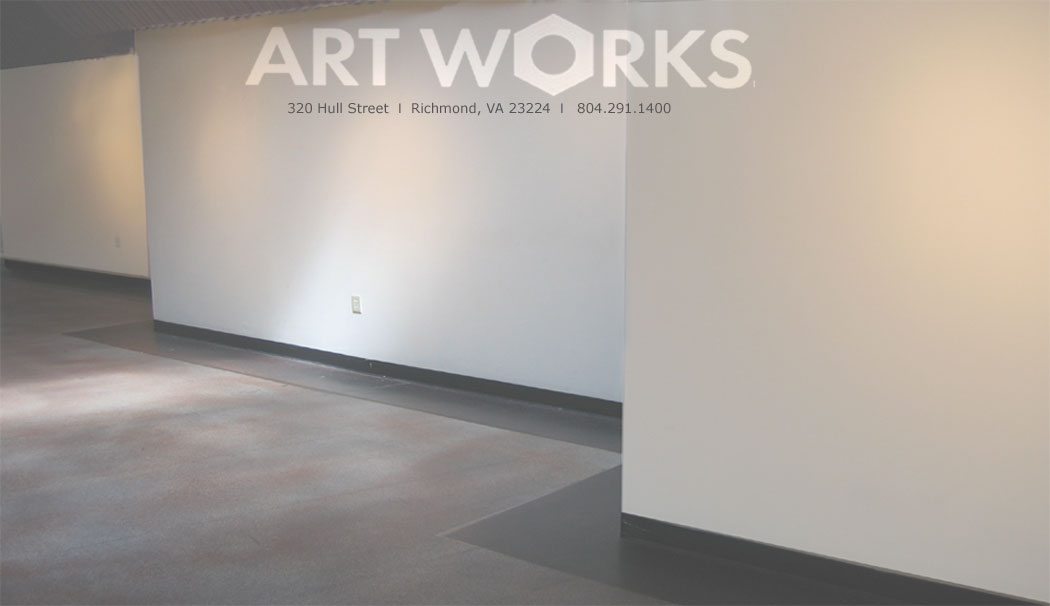 2014 Simply Photography winners:
1st Place: Carsan in Spring by Bruce Brelsford, 20x16 Photography $500

2nd Place: South Beach by Dick Pitini 16x20 Photography, $285

3rd Place: Bike on Balcony by Kelly Kinsey, 16x20 Photography, $110

Honorable Mention: Old Columbia by Fran G. Smith, 11x14 Photography, $175

Honorable Mention: Three Pods by G. Siri, 11x14 Photography, $35

Honorable Mention: Alpenglow Barn by Robert Brooks, 28x38 Photography, $475

Honorable Mention: Bonsai Garden by Stephen Girimont , 22x28 Photography, $500

Photography by Rick Blanton

Primordial Queue by Dana Frostick 36x32, Sharpie, Latex, Acrylic on canvas, $1,000

My Magic Mountain Moment, Acrylic Painting by Chester Artist Association member: Gail Butler

1st Place All-Media Show Faces by Mel Talley

2nd Place: Thistle Music Box by Tim Harper

3rd Place: Friday Night at the Fair by Robert Pfeifer

Honorable Mention: Evolution by Tanya Rogish

Honorable Mention: Never Really Done by Theresa Armstrong

Honorable Mention: What's it'z Box #1 by Holly Forester