MEMORIES by Tanya Tyree and Milenko Katic' . This exhibit is a collaboration by painter, Milenko Katic' and ceramic artist, Tanya Tyree. Using different mediums they explore the figure, color and texture.
Milenko was born in Serbia and grew up in Belgrade. As a young man, he studied medicine for three years until he discovered his love for art. He stopped medical school and took classes at drawing and painting school in Belgrade with art professor Sergije Jovanovic'. His early work from the seventies and eighties are in a surrealistic style, influenced by Magritte and Dali. In 1979 he joined The Painting School of Machva with the painter Milic' de Machva and mounted group and solo exhibitions.
Tanya Tyree was born in Richmond, VA and graduated with a Bachelors of Fine Art from VCU in 1994. She found her passion for clay after graduating from college. Tanya's influence in clay is not traditional. Tanya's current clay sculptures are inspired by many contemporary artists like Marc Chagall, Henri Matisse, Henry Moore, Pablo Picasso, Gustave Klimt as well as African, Asian and Islamic art forms.

The exhibit will be in the Jane Sandelin Gallery.

FAVORITES by Beth Bradford. Beth Bradford is a talented painter and printmaker with a variety of styles. Her show is in the Corner Gallery.

ABSTRACT FLORALS by Trisha Girimont. Trisha brings her beautiful photographs of abstract floral details to Art Works this month in the Centre Gallery.

SILHOUETTES by Cheryl Clayton. Clayton's expressive acrylic paintings with cultural references will be displayed in the Skylight Gallery.

ROMANTIC REALISM by Ilona Schuvalova. Illona is from Ukraine. Her style and subject matter are reminiscent of old masters like Vermeer and Rembrandt. Illona's realism and attention to detail far surpass what you may expect from someone who has only been painting for three years. She works in oil paint and her portraits take a minimum of 2 months time. She will also have some pastel paintings on display but prefers the oil medium. This is the artist's first solo show and we expect great things from such a talented individual.


OCTOBER ALL-MEDIA SHOW Each month Art Works offers artists from all over to participate in a juried art show. MIKE GUYER will jury the show. Submissions are accepted from any artist and any medium. Call for Entries is on October 18th and 19th, 2013. See our Call For Entries page to learn more.
Click Here to download/print a PDF Catalog

All images are the property of the artists and may not be duplicated without permission. Contact Art Works, Inc. 804 291.1400 in Richmond, Virginia U.S.A. for more information or if you wish to seek permission for use of images.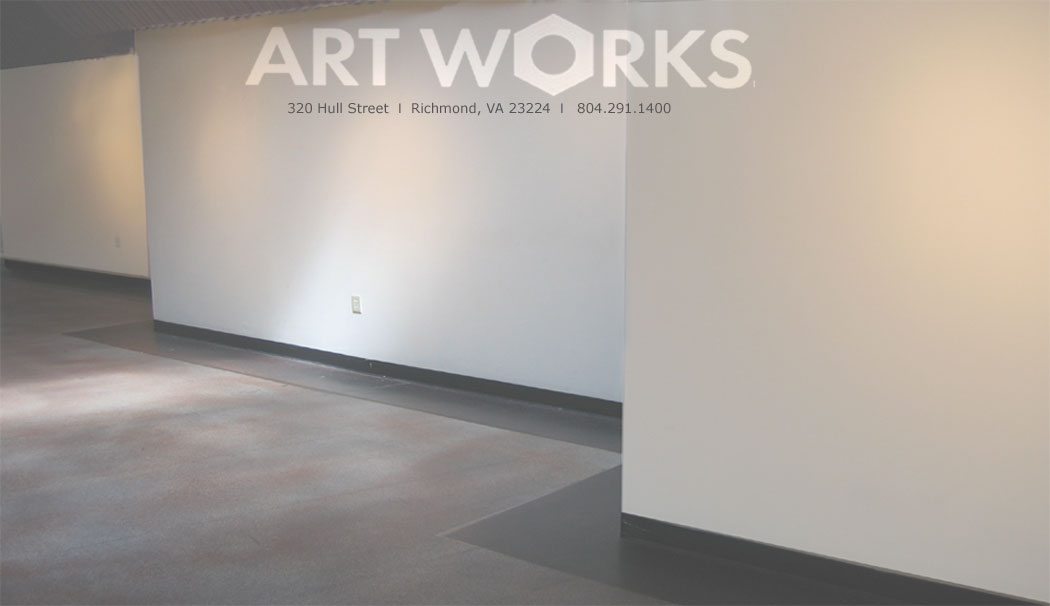 Harmony by Tanya Tyree - Ceramic





1st Place All-Media Show: At Witt's End by Linda Bronski, 30x24 Oil on Canvas, $1,500

2nd Place: Leviathan by Amber Frances O'Hara, 16x20 Mixed Media $1,000

3rd Place: The Twisted Satisfaction of Creating a Girlfriend out of Playground Equipment by Matt Chodoronek, 36x24 Acrylic on Canvas, $350

Honorable Mention: Spice by James Timberlake, 20x20 Oil on Panel, $450

Honorable Mention: Escaped Bird by Dorothy Ellis, 24x18 Acrylic on Canvas, $400