RECENT WORKS BY GUY RAYMOND Jane Sandelin Gallery. Guy Raymond is a native of Adams, Massachusetts and moved to Richmond where he worked night shift at Philip Morris and went to VCU majoring in painting and print making during the day. He now lives in North Carolina and works days at Philip Morris and at nights paints in his studio. Starting with something as small as a squiggle his paintings evolve into images of distorted circus trains, monkeys, aquariums, chefs and nuns and more. His work is on display in Green Goat Gallery in Salisburg, NC. This exhibit will be in the Jane Sandelin Gallery.

DISJOINTED by Tom Veazy Photography, Skylight Gallery.

CRESCENDO by Glenda Creamer "I have titled this show, Crescendo, after the musical term to get louder. After a long absence from showing I am letting my art 'be heard' again. My abstract paintings are full of motion and emotion, celebrating the energy of my life." Centre Gallery, West.

RECENT WORK BY RONNIE T. Iconic paintings will be displayed this month in the Centre Gallery.

FEBRUARY ALL MEDIA SHOW Each month Art Works offers artists from all over to participate in a juried art show. DIEGO SANCHEZ will jury the show. Submissions are accepted from any artist and any medium. Call for Entries is on February 15th and 16th 12-6pm. See our Call For Entries page to learn more.
About the Juror:

Diego Sanchez is an artist and educator currently in Richmond, VA.

"Initially, my approach to painting is purely intuitive. After priming the surface of my panels, I take over the surface applying large areas of colors and developing interesting surfaces. This part of the process is tremendously enjoyable to me. I often wonder how making a painting resembles an act of faith. Not having preconceived notions of where the work will take me or what the painting will look like in the end. After I have a surface that I like, (or one that I truly despised) I precede to paint a single representational element. In this series I decided to work with water towers. I enjoy their shape and their function.

For the past eight years my approach to my work reflects my love for the act of painting, for the process itself rather that the final product. Painting to me is about process, whether you are developing a surface, mixing the right color or figuring out a different way to approach a problem. Painting to me is a fluid activity that changes as I change. Painting requires discipline and time. Developing a painting to me is an activity that can be frustrating, rewarding and humbling" -DiegoSanchez.com
Click here to download/print a PDF catalog
All images are the property of the artists and may not be duplicated without permission. Contact Art Works, Inc. 804 291.1400 in Richmond, Virginia U.S.A. for more information or if you wish to seek permission for use of images.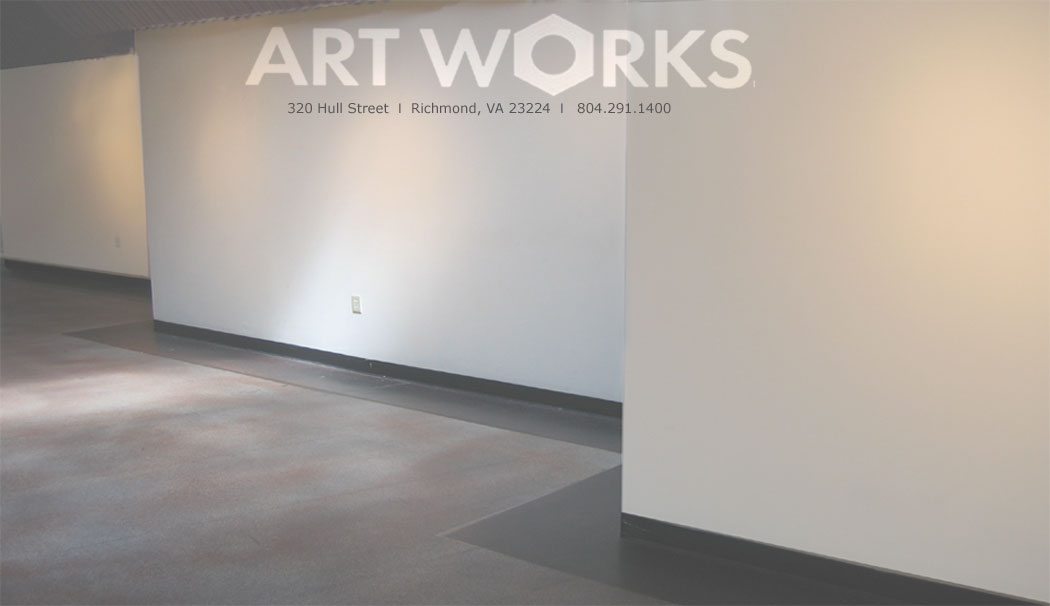 1st Place: Sedimentary Leopard, 46x26 Sharpie, Acrylic, Pastel, $1,250
1st Place: Rodential Pachyderm 46x25 Sharpie, Acrylic, Pastel, $1,250

2nd Place: Kanpai by Jacobe Noonan, 12x24 Acrylic on Panel, $425

3rd Place: Untitled III by Michelle Lyon 24x36 Giclee Photo Print, $350

Honorable Mention: Her Grace by Rebecca Ronesi, 16x20 Metalic Board Photo, $295

Honorable Mention: Untitled by Mel Talley 29x36 Photograph, $800
H

Honorable Mention: The Canal by Mickey Murphy, 22x18 Digital Photography, $135