On October 26th, we will present our 100th art exhibit and opening reception. This is cause for celebration! So on October 26th, wear your Halloween costume, join in our celebration, as we will have special prizes, a costume contest, a photobooth by Hoot Media, a chance to win $100 for just $1 and see 5 VERY special shows. And we've prepared a video retrospective of 100 shows at Art Works. The reception is from 7pm – 10pm, is free and open to the public and includes free parking in the 4th Street parking lot for our guests.
And here are the exhibits for our 100th opening:

SKY, SAND AND SEA by Christphora Robeers Jane Sandelin Gallery. Prolific Richmond-based artist Christaphora Robeers bring us oil paintings of the Sky, Sand and Sea as the title suggests. Most are of the Outer Banks, NC where she spends time with a friend. She mostly goes in the winter when things are quiet and starts painting on-site finishing them back in her studio. Half of the works were done prior to an accident involving trauma to her right (painting) hand and the other half were done after. Those done afterward are looser than the earlier paintings of this series, and the shift has brought her work to another level of abstracted beauty. You'll want to come early to this exhibit because Robeers' last show on this topic sold out!

The artist will also be bringing some books and prints.

SMALL THINGS by Kay Franz Franz is a long-time resident artist at Art Works who makes beautiful hand-built ceramics in organic shapes and colors. Skylight Gallery.

ECO-URBAN ART by Jamie Phillips Centre Gallery, West. Jamie Phillips combines computer parts, widgets and gadgets with his paintings to create urban landscapes and sculptures. His exhibit will be on display in the Center Gallery, West.

LINOCUT AND WOODCUT PRINTS by Charlotte Dauphin This will be Charlotte's first exhibit at Art Works. She will be displaying her printmaking work in the Corner Gallery.

RECENT WORK BY MARK SHIVELY Mark Shively is a photographer and sculptor. His work will be on exhibit in the Center Gallery, East.

OCTOBER ALL MEDIA SHOW Each month Art Works offers artists from all over to participate in a juried art show. ROB WOMACK will jury the show. Submissions are accepted from any artist and any medium. Call for Entries is on Oct 19th and 20th 12-6pm. See our Call For Entries page to learn more.
About the Juror ROB WOMACK:

Rob Womack is one half of Coloratura. He works in partnership with his wife, Catherine, on painted furniture "We have used furniture as a canvas for our ideas for almost thirty years. Briefly, we respond to the form, character and/or history of an already existing piece of furniture. We are guided by our own sensibilities along with an extensive examination of history and art history. We use enamel paints and hand-rub each layer to insure heirloom quality in these one-of-a-kind works of art....The excellence of our work has been recognized by the National Endowment for the Arts with a Fellowship Award and by inclusion in the permanent collection of the Smithsonian American Art Museum."

image from Coloraturafurniture.com

Click here to download/print a PDF catalog
All images are the property of the artists and may not be duplicated without permission. Contact Art Works, Inc. 804 291.1400 in Richmond, Virginia U.S.A. for more information or if you wish to seek permission for use of images.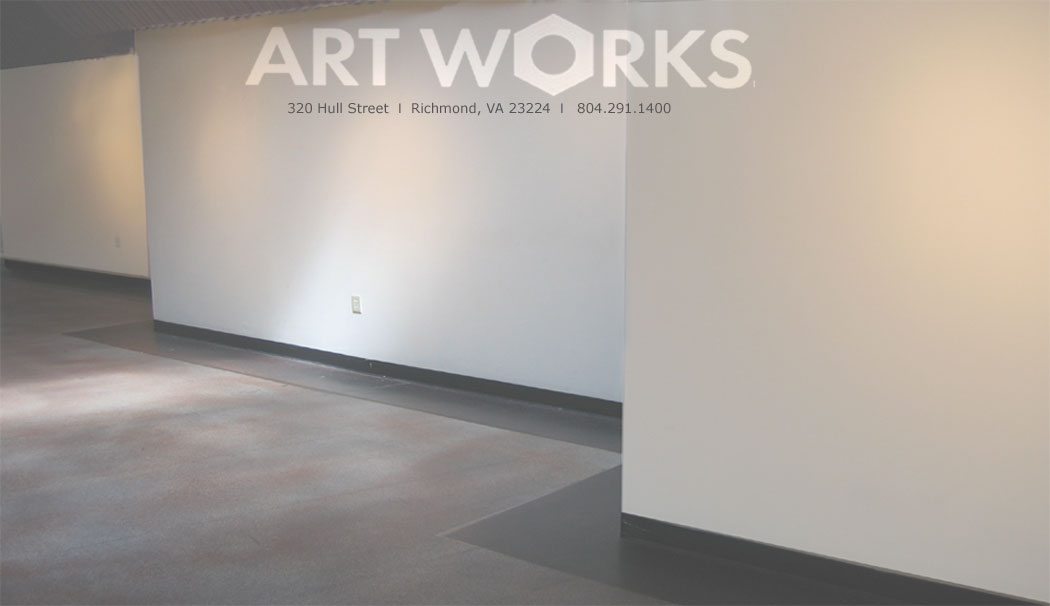 Oil Painting by Christaphora Robeers

Affinity Ceramic, Mixed Media Sculpture by Kay Franz
Mixed Media work by Jamie Phillips



1st Place All-Media Show: Life Force by Mel Talley 29x36 Photography (Archival Pigment Ink) $800

2nd Place All-Media Show: Sonnet by Chris Semtner 18x14 Acrylic, $450

3rd Place: Roseland by Amy Donahue, 24x12 Oil on Canvas, $460

3rd Place: Evening Over Morris Street by Amy Donahue Oil on Canvas, $330

Honorable Mention: Tardy Saplings by Sandy Bruton 36x18 Oil, $2,000

Honorable Mention: Shed by Tomas Ehrenberger 12x16 Oil, $550