See more below...
LABRYNTHS AND INVENTIONS by Frederick Chiriboga and Wolfgang Jasper
Frederick Chiriboga's work ranges from large and small assemblages and sculptures to collages, drawings and paintings. He uses found material and believes that "in Art anything that is not essential is unnecessary."
Wolfgang Jasper has been a portrait photographer and artist for more than 30 years. His studio is in Stony Point Fashion Park in South Richmond. He will exhibit charcoal drawings.
Jane Sandelin Gallery.

NATURE'S PATTERNS AND ABSTRACTIONS by Marta Downs Marta Downs is a resident artist at Art Works. She makes her own paper and paints both landscapes and abstracts. MARTA'S show this month reflects her love of Mother Nature through use of natural patterns and abstractions. The exhibit will include twelve oil paintings. In several significant ways, the artist's impressionistic style has become more abstract than in previous works. Her exhibit will be in the Centre Gallery, East.

RECENT WORKS BY LESLIE CORBITT Centre Gallery West. "This show reflects a year of study in different mediums. I have been busy attending studio classes from 3-D Design, basket weaving, photography, charcoal and even Plein Aire Painting, constantly searching for ways to express my creativity. I have had the opportunity to study with some terrific instructors and participate in some new events that prove it's never to late to learn new things or see things in a different light. Take the time to walk through the gallery and hopefully you will enjoy the view as much as I enjoyed creating these works."

EYES OF THE FOREST by Sheila Holland
Sheila's award winning artwork is in corporate collections and local galleries. Her paintings will be on display in the Corner Gallery.

ARCHIPELAGIC ENCOUNTERS: THE RED CINDER SERIES by Geraldine Kiefer
Skylight Gallery. "The Red Cinder Series is the continuation of Geraldine Kiefer's graphic explorations into the imaginative and cultic richness of the Hawaiian Islands. Created under the auspices of the Red Cinder creative arts colony on the Big Island and utilizing found objects as well as coffee- and tea-stained papers, these drawings explore regions floating between the known and the unknown, exploration and discovery, expeditionary clarity and obscurity, control and fear. Most of the works were drawn freehand from models culled from Hawaiian exploratory expeditions from the late 18th century through the early 19th century. A detailed map of the Big Island initiates the exhibition; an imaginary exploration by means of panoramic island elevations centers it."

SEPTEMBER ALL MEDIA SHOW Each month Art Works offers artists from all over to participate in a juried art show. EMERALD GRIPPA will jury the show. Submissions are accepted from any artist and any medium. Call for Entries is on September 21st and 22nd 12-6pm. See our Call For Entries page to learn more.
About the Juror, Emerald Grippa:

"Emerald Grippa is an Illustrator located in Richmond, Va. She received her Bachelors degree in Communication Arts at Virginia Commonwealth University in 2008 and has since been working diligently in the illustration field. Her list of clients include Need Supply Co. of Richmond Va, RVA Magazine, FRESH Magazine, and Spacebomb Records. She has shown at Quirk Gallery in Richmond, Va and is currently teaching illustration at the Visual Arts Center.
Click here to download/print a PDF Catalog
All images are the property of the artists and may not be duplicated without permission. Contact Art Works, Inc. 804 291.1400 in Richmond, Virginia U.S.A. for more information or if you wish to seek permission for use of images.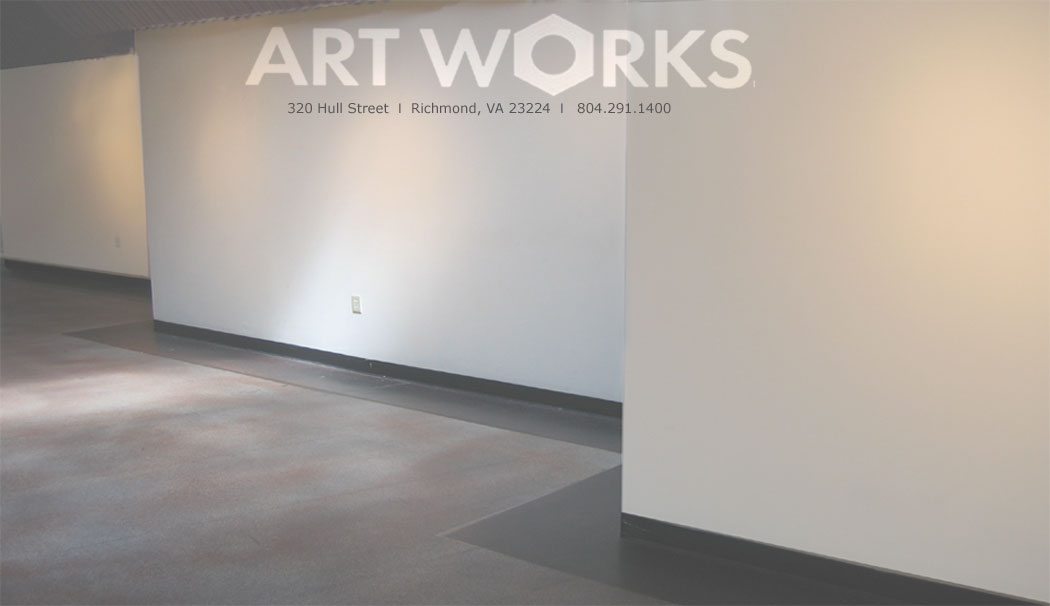 work by Woflgang Jasper

The Spirit of Haiti, Oil painting, $1,000

Untitled Photograph by Leslie Corbitt. 14x17, $100


Crater of Kilauea II, 2011 by Geraldine Kiefer. Coffee, colored pencil, tinted charcoal pencil, graphite, pencil and watercolor on handmade watercolor paper, 11" x 15"

1st Place: I Lift My Eyes to the Hills by Amy Donahue 36x24 Oil, $1,500

2nd Place: Trampoline by Glenda M. Creamer 44x48.5 Acrylic, $1,200

3rd Place: Dressed to Kill by Sandy Bruton 18x36 Oil, $1,500

Honorable Mention: Contra Costa Spring by Dorothy Ellis 30x24 Acrylic, $350

Honorable Mention: Winter Sunset by William A. Bailey 9x12 Oil, $225

Honorable Mention: Mrs. Thatcher in Red Very Wired by Jamie Phillips 31x41 Mixed Media, $400