SIMPLY PHOTOGRAPHY 8 - Photographers get an opportunity to show their signature photographs in this juried show. The juror is Jay Paul. Call for entries is on January 20th and 21st, 2012 at Art Works. There are cash prizes. The exhibit will be in the Jane Sandelin Gallery.
Click here to download or print the catalog
Click here to download the Skylight catalog


UNRAVELINGS by Megan McConnell -Unravelings consists mostly of narrative fiber pieces. Many pieces contain imagery of objects that link together to create a story or are the same object in different stages or phases. The exhibit will be in the Center Gallery, East


Recent Works by Christy Guise - Guise uses a unique technique to make her award-winning, abstract paintings. The exhibit will be in the Center Gallery, West


FOR THE BIRDS by Erin Bailey - Bailey, a multi-talented photographer, painter and crafter, will be showing her rare bird silhouettes on modern backgrounds. Her acrylic paintings will be in the Corner Gallery.
"I went to school to study Studio Art at James Madison University. I was always told to "love what you do and you will never work a day in your life." So here I am creating art again after an 8-year reprieve and it feels GOOD! I paint, knit, and truly enjoy digital photography.

My creative focus for now is painting. My works are comprised of tree elements, birds, circles and silhouettes. I use simple shapes and simple lines, imitating a graphic design feel in a hand-painted piece. My hope is that my works in their decorative journey create a room that feels complete or can inspire further design and inspiration."


JANUARY 2012 ALL MEDIA ART SHOW - Each month Art Works offers artists from all over to participate in a juried art show. Submissions are accepted from any artist and any medium. Call for Entries is on January 20th and 21st.
<
Juror: JAY PAUL
Click here to download or print the catalog
All images are the property of the artists and may not be duplicated without permission. Contact Art Works, Inc. 804 291.1400 in Richmond, Virginia U.S.A. for more information or if you wish to seek permission for use of images.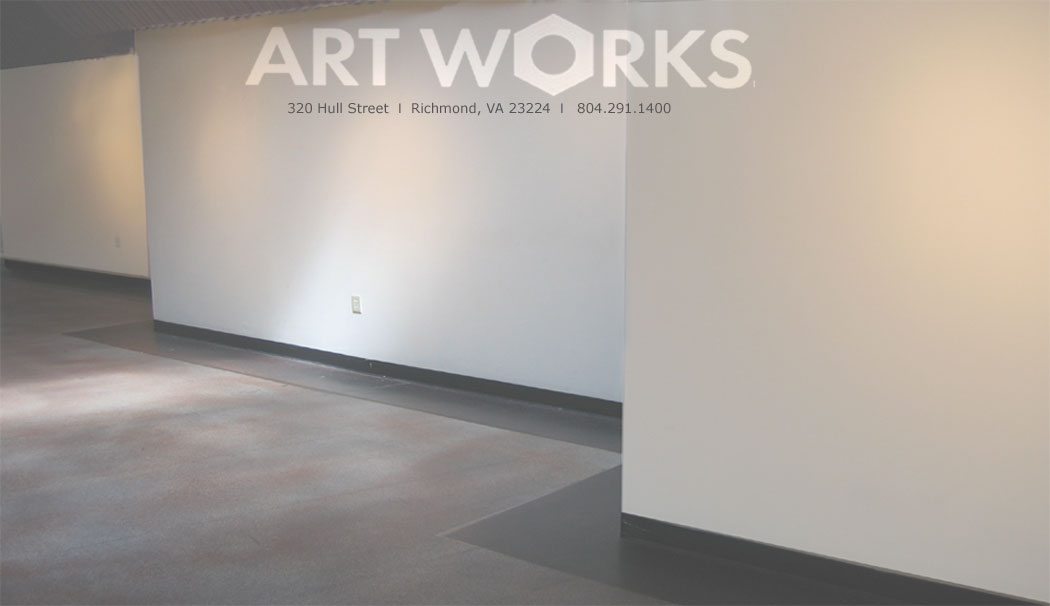 1st Place: Misty path to Flat Top Mountain by Robert Miller 28x36 Digital Photography $595

2nd Place: Tree Art by Becky Huddleston 25x19 Digital Photography $448
2nd Place: Color of Water by Becky Huddleston 25x19 Digital Photography $448
2nd Place: River Grass in Autumn by Becky Huddleston 25x19 Digital Photography $448

3rd Place: Siesta by Johanna Stoneking 16x20 Digital Photography $75

Honorable Mention: Shadow Lotus by Jim Basl, 11x14 Inkjet Paint, $120

Fiber art by Megan McConnell

Painting by Christy Guise

Painting by Erin Bailey

1st Place: Bearers of the Light by Michael Martin 34x51 Oil Painting, $7,600

2nd Place: Love is Touching Souls by Sandhi Schimmel Gold 24x36 Mixed Media $3,300

3rd Place: What's That? Down by the Creek by Susan Cary 30x40 Mixed Media $350

3rd Place: The Round Up by Susan Cary 30x40 Mixed Media $350

Honorable Mention: When I Was a Young Girl I Sang a Young Girl's Song by Waverly Clark Fitch 26x15 Mixed Media, $250